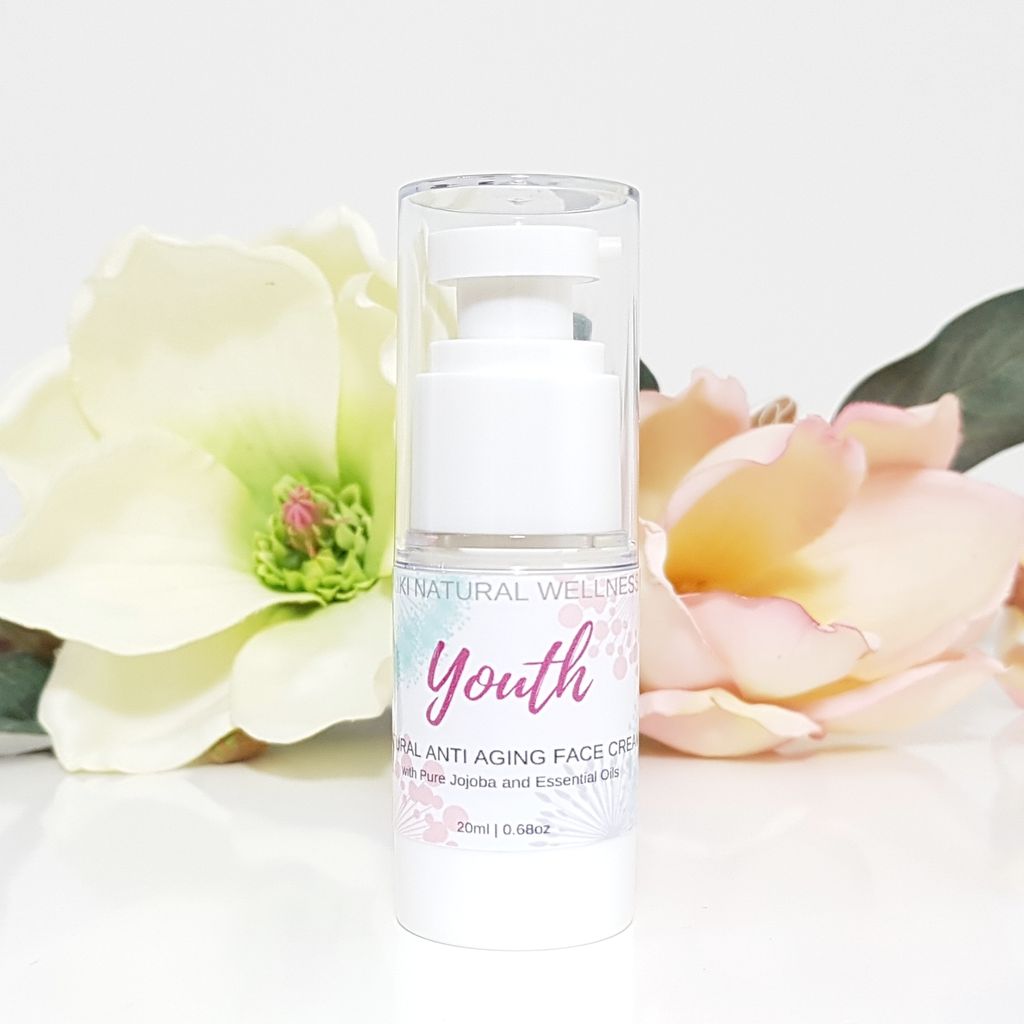 Description
Refine your Beautiful Skin Naturally with our Youth Skin Care line.
This miracle Youth Face Cream is a must in your beauty regime to maintain radiant skin and slow the signs of aging. It is packed with age defying ingredients such as Shea Butter, Avocado Oil, Jojoba Oil and special blend of Chamomile, Frankincense, French Lavender and Helichrysum Essential Oils that can reduce wrinkles, minimize pores, renew, tone and makes your skin glow radiantly.
Shea butter is packed with antioxidants vitamin A, vitamin E and essential fatty acids; known as skin superfood will nourish and deeply moisturize your skin. The vitamin A in Shea Butter is important for improving a number of skins conditions including blemishes, wrinkles, eczema and dermatitis.
The Vitamin E, Potassium, and Lecithin in Avocado Oil are primary skin feeding nutrients which are easily absorbed into the dermis where they provide energy for the growth and health of new skin as well as fortification of existing cells.
Jojoba Oil is structurally close to our natural face sebum and acts as a protective barrier to keep skin hydrated by locking in the moisture in the skin. Jojoba Oil is also good for oily or acne skin because it is able to regulate the skin natural sebum production.
Chamomile Essential Oil will calm, hydrate, and moisturize the skin.It is also effective for improving skin rashes, sun burns, scars, crow's feet and dark circles because of its skin repairing, regenerating and strengthening properties.
Frankincense Essential Oil is a powerful astringent which helps to protect skin cells at cellular level; reduce acne blemishes, the appearance of large pores, prevent wrinkles and even lift and tighten skin to naturally slow the signs of aging.
French Lavender Essential Oil has antiseptic, balancing, soothing and rejuvenating properties. It is regarded as the most versatile essential oil and suitable for all skin types and any skin conditions.
Helichrysum Essential Oil is another rich anti aging ingredient; well known for its healing properties, can assist in preventing inflammation, balancing sebum production, and remedy for acne breakouts.
Ingredients
Aqua, Vegetable Glycerin, Shea Butter, Avocado Oil, Jojoba Oil, Vitamin E, special blend of Chamomile, Frankincense, French Lavender and Helichrysum Essential Oils, Optiphen plus.
How To Use
Apply a pea size (or as own discretion) on face after wash. Can be use after face mist or face serum. Can be use day and night.