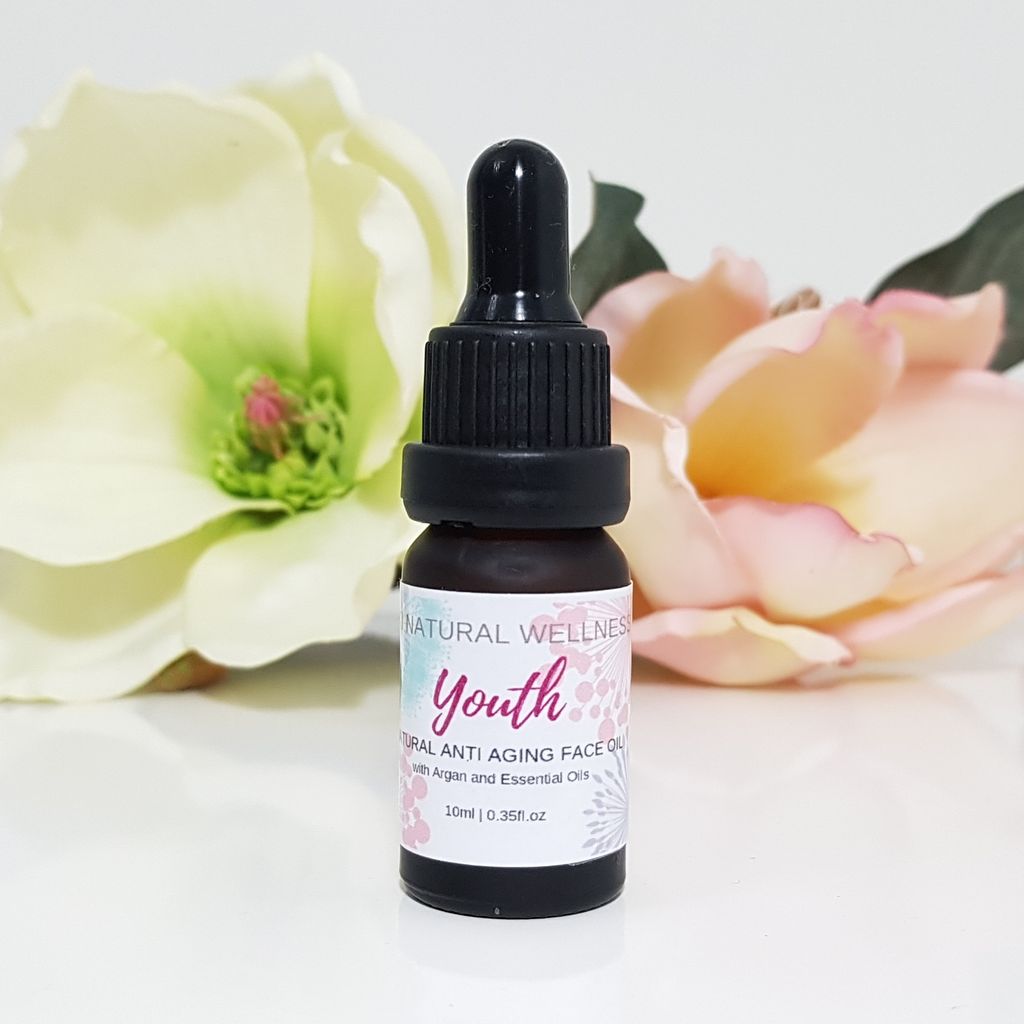 Youth Face Oil for Normal & Mature Skin
Description
Refine your Beautiful Skin Naturally with our Youth Skin Care line.
This calming Youth Face Oil is a must in your beauty regime to dramatically reduce wrinkles, hydrate skin and slow the signs of aging. It is packed with age defying ingredients; Morrocan Argan Oil, Organic Rosehip Oil, Organic Jojoba Oil, Apricot Kernel Oil and special blend of Carrot Seed and Lavender Essential Oils.
Argan Oil known as 'liquid gold' is full of antioxidants and fatty acids to erase signs of premature aging such as reduce wrinkles, fade age spots and restore skin's youthful elasticity by increasing the regenerative rate of healthy skin cells.
Rosehip Oil is very high in Retinol which is highly antioxidant; great at repairing damaged tissue and reducing scars and wrinkles.
Jojoba Oil is structurally close to our natural face sebum and regulates the skin natural sebum production.
Apricot Kernel Oil is a great moisturizer without being greasy and packed with antioxidants to prevent skin from damaged by free radicals.
Carrot Seed Essential Oil is packed with vitamins and nutrients, most important is carotenoids. Carotenoids can boost the body's immune response to UV rays, which makes it excellent at preventing sun damage. Carrot Seed Essential Oil also detoxifies and stimulates the rejuvenation of cells.
Lavender Essential Oil is very versatile to improve and calm a wide range of skin conditions such as skin inflammation, itchy, scars, wrinkles and dry skin.
Ingredients
Pure Moroccan Argan Oil, Rosehip Oil, Jojoba Oil, Apricot Kernel Oil, Vitamin E, special blend of Carrot Seed and Lavender Essential Oil.
How To Use
Apply 1-3 drops on face after wash. Best use at night for skin deep repair and new cell generation.
Weight
Net weight 10ml.