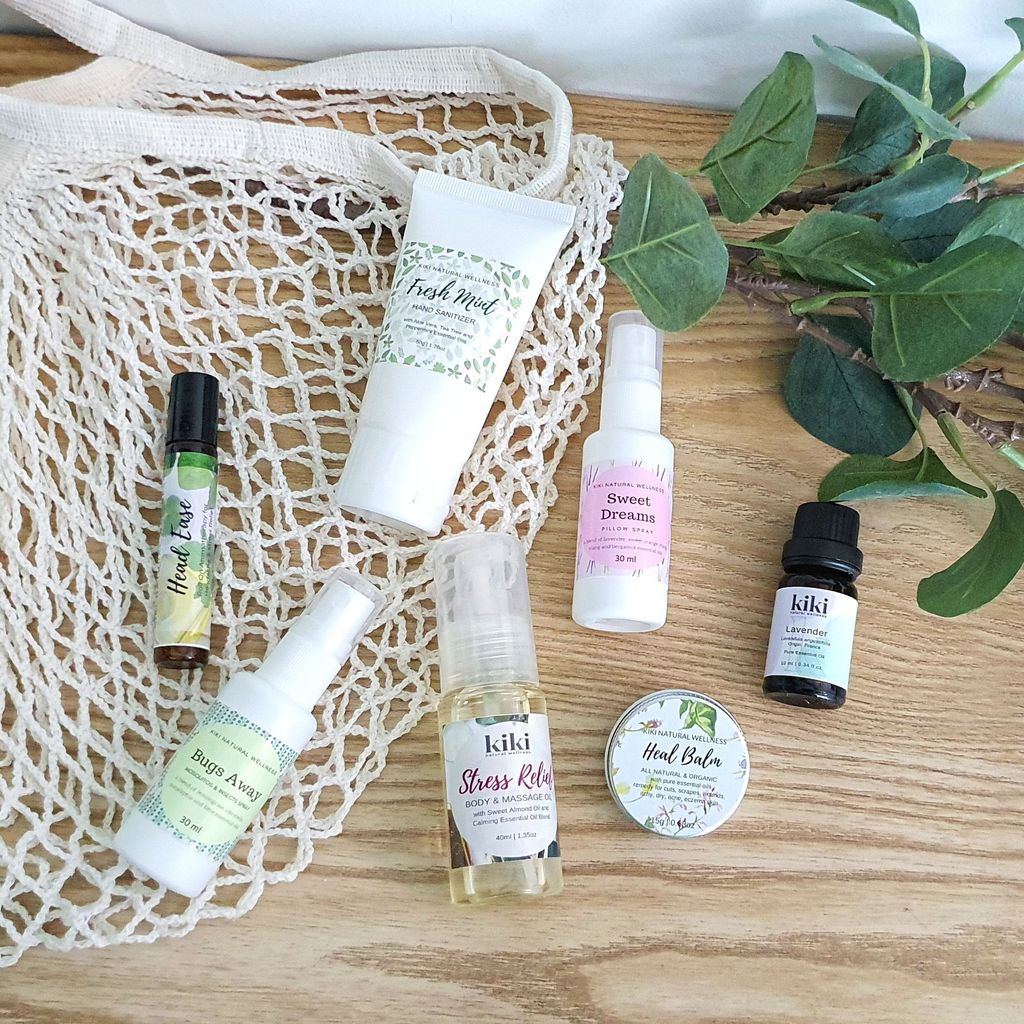 Aromatherapy Travel Companion Set
This travel companion set is a great way to naturally protect and enjoy the health benefits of aromatherapy when you are away from home. It is exclusively designed to contain all the important must-have items during your travel.

The Aromatherapy Travel Kit includes:

1. 10ml French Lavender Pure Therapeutic Grade Essential Oil. French Lavender essential oil is very versatile and can be used in many different ways. Inhale directly if you need to calm your nervousness, anxiety and to promote deep sleep therapy. Apply a few drops directly on your wound to stop and heal the bleeding. Drop a few drops in your bath for relaxation and stress relief. Drop a few drops on tissue paper and insert into your pillow case for calming effect and good sleep. You can also drop a few drops on your wrist as a pefume.

2. 50ml Stress Relief Body and Massage Oil. This body oil is made with Sweet Almond Oil and Apricot Kernel Oil to nourish and moisturize your skin. It also contains a special blend of French Lavender, Frankincense and Peppermint Essential Oils to alleviate fatigueness and relax your tired muscles. It can be used as a body moisturizer or massage oil. You can also apply and massage on tummy to ease any indigestion or stomach ache.

3. 15g Heal Herbal Balm. This balm has a very multipurpose function as a remedy to any skin conditions such as dry, cracked, scratches, scrapes, acne, itchy, insect bites, inflammed and wounds. Can also be applied on lips as lipbalm. Or on cracked heels to smoothen and moisturize them.

4. 30ml Sweet Dreams Room and Linen Spray. Spray around your hotel room or any room or your bed linen to freshen and uplift any bad scents and turn into spa like calming scent. Made with special blend of French Lavender and Sweet Orange Essential Oils. It will promote deep sleep and sweet dreams eventhough you are away from the comfort of your home.

5. 30ml Bugs Away Spray. Spray on your skin before going out in the woods or anywhere out to avoid any insect or mosquitoe bites. Made with special blend of insect repelling essential oils.

6. 50ml Fresh Mint Hand Sanitizer. Made with Aloe Vera and special blend of Peppermint and Tea Tree Essential Oils. Use always and anytime to sanitize and protect your hands from germs. Its minty scent is very refreshing and uplifting.

This set comes in a handy travel pouch (design varies).